Marmot Trestles Elite Eco 20 Review
Why we love this synthetic 3-season sleeping bag
Lexi is a hiker, backpacker, and outdoor enthusiast born and raised in the White Mountains of New Hampshire. Read More
I purchased my Marmot Trestles Elite Eco 20 sleeping bag one and a half years ago. Ever since I first tried this mummy-style synthetic sleeping bag it has been my traveling companion for many backpacking trips, and swiftly established itself as one of my favourite sleeping bags for backpacking.
I've used this bag at Mount Rainier national park, Rocky Mountain national park, snow backpacking into the San Jacinto wilderness, and more!
The warmth in this bag makes me forget that I am out in the cold. I could easily snooze my alarm two or three times when using it, if the sun didn't wake me up.
The Trestles Elite Eco 20 sleeping bag is of excellent quality and worth every dime. In my review, I will give you complete information on this bag's features, material, size, temperature rating, and pros and cons.
Overview
Best Synthetic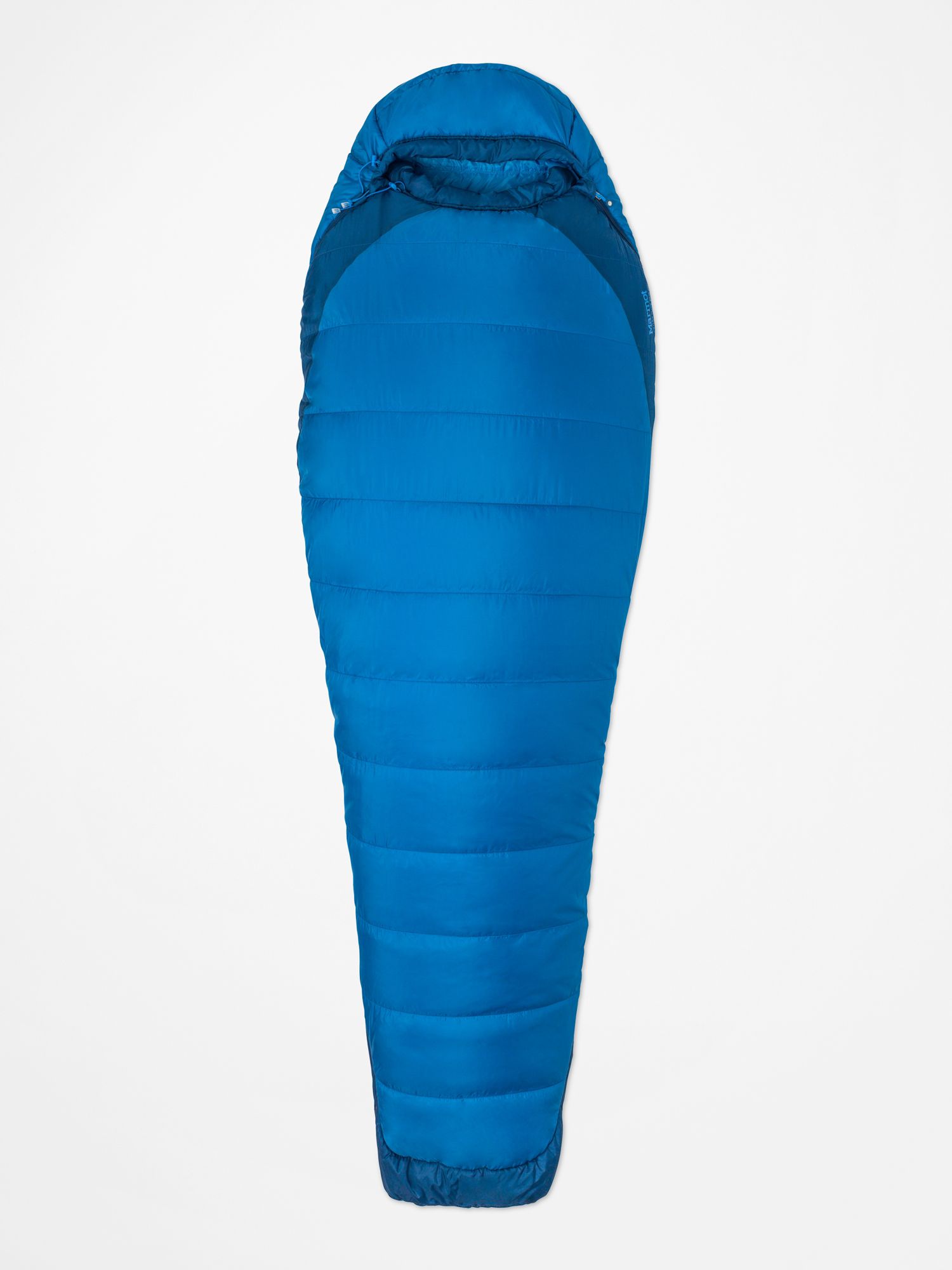 The Marmot Trestles Elite Eco 20 is a versatile sleeping bag that you can use comfortably for all three seasons. It is also an easy maintenance bag that you can machine wash cold to keep clean.one of the most beautiful and unique creations in sleeping bags. The bag comes with a compression stuff sack and a storage bag to reduce the volume in your backpack.
This sleeping bag is best for climbing, mountaineering, and camping. Let's look at some of its key features.
Features
This wonderful creation has a wave construction on the top to give you maximum warmth while providing maximum loft and a blanket construction at the bottom to provide you with a toasting warm, cozy feeling.
The blanket construction reduces cold spots for a consistent temperature throughout the bag, making it ideal for all sleep positions.
The Marmot Trestles Elite Eco 20 sleeping bag has a 3D hood construction with a draft collar to give you more warmth around the head.
It has a Snagless insulated draft tube to block cold air from getting in and warm air from getting out of the bag. It ensures you get maximum warmth throughout the night.
This sleeping bag has a 3D foot box to provide enough room for your feet and provide more warmth even at the lowest temperature. It also includes a main zipper with an anti-snag slider to prevent the fabric from getting stuck. The sleeping bag features a fold-down second zipper to provide added ventilation and easy access.
The Trestles Elite Eco 20 sleeping bag also comes with an external stash pocket where you can store small items like your phone or glasses. It also features two hang loops on the side to prevent the bag from catching dirt from the ground.
I am a cold sleeper, but with the high loft insulation of this bag, I stay toasty warm, even in cold spots. Based on average customer ratings, warm sleepers can open the fold-down second zipper for added ventilation during warm nights.
The Marmot Trestles Elite Eco 20 sleeping bag has horizontal baffles that spread constant warmth across the body, like its brand companion the Marmot Nanowave 55.
Material
The Elite Eco series are 100% synthetic bags with 96% recycled materials. The shell material is constructed with durable polyester ripstop and a 20D 100% recycled polyester taffeta lining. I love the soft feel of the shell and feel; they make my nights in the mountains super cozy.
The Marmot Trestles Elite Eco 20 sleeping bag has an HL-ElixR micro synthetic insulation that uses a unique blend of three synthetic fibers to give you maximum warmth, soft feel, and maximum loft.
The outer fabric handles heavy dew & air moisture well, keeping insulation value. Don't worry about the bag getting damp. You can easily wipe any water spills on the bag, and it will dry up pretty quickly.
Temperature Rating
Based on the average rating value, the comfort limit of this sleeping bag is 32.2degrees F, with a lower limit of 21.6 degrees. The temperature rating is 21.6 F or -5.8 degrees C.
During one of my adventures in the grand lake, temperatures dropped slightly below 0 degrees, but I was warm and comfortable. We used an analog miniature fridge thermometer to get accurate temps during the night. I was impressed with the performance of this sleeping bag.
During wet weather and low temperatures, you can wear fleece pants and a t-shirt, polypro socks, and an acrylic beanie for extra warmth.
Weight
The Eco 20 sleeping bag is a low-weight bag making it easily portable for backpacking and camping. It weighs 2lbs.6oz for the regular size, 2lbs.9oz for the long length, and 3 pounds for the extra-wide size.
The sleeping bag compressed volume is 8 liters and requires less effort to fit in a 15 liter compression stuff sack.
Size
The sleeping bag has a regular and long length.
Shoulder girth for the long length is 163cm

Shoulder girth for the regular size is 157cm

Hip circumference for the regular size is 144cm

Hip circumference for long size is 150cm. The size of this bag is ideal for side sleepers as they have enough space to curve their legs.

The maximum user height for the log size is 198cm.

The maximum user height for the regular size is 183 cm

Foot box size for the long size is 122cm

Stuff sack size is 24cm by 48 cm
If you'd like a larger bag to share with a sleeping partner, try our review of the Feathered Friends Spoonbill UL.
What we love
It has a durable construction
It is an ultra-lightweight bag
It is significantly warm and cozy
Suitable for all 3 seasons
super soft and packs down nicely
It has an excellent warmth to weight ratio
It has a soft feel and high loft
What you might not
Sometimes the zipper snags
Some people say it has an unrealistic temp rating
Final Remarks
If you want a sleeping bag that is versatile and sustainable and doesn't forgo performance during cold seasons, the Marmot Trestles Elite Eco 20 fits the description. The warmth that comes with the bag is worth the price point.
While every gram counts during hiking, this bag is super light and compressible to make your climbing experience easy and worthwhile. It will give you good rest and comfort on your outdoor adventures. Purchase yourself today to have a firsthand experience of this sleeping bag.